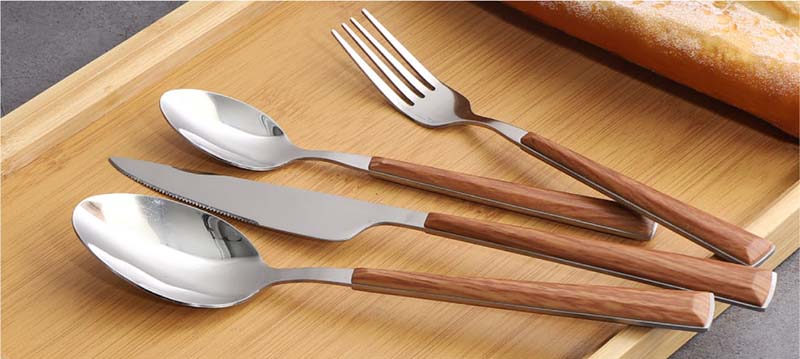 Details
1. Stunning Design: The flatware set boasts a remarkable wooden design on the plastic handles, lending a rustic yet sophisticated charm to your table setting. This special design printing showcases attention to detail, and will help you to match other tableware when setting a table.
2. Premium Stainless Steel: Crafted from high-quality stainless steel, this flatware set ensures durability and longevity. The stainless steel construction resists corrosion and maintains its shine, even after prolonged use. The material S/S13/0 is popular in the South American market.
3. Golden Plating: The allure of gold is captured through the luxurious golden plating on each piece. This glistening touch not only enhances the flatware's visual appeal but also offers a unique sense of opulence. We can also do other colors, black, copper, and customized design colors.
4. Complete Set: Our set includes a comprehensive range of flatware essentials to cater to your dining needs. From elegantly curved forks to precisely balanced knives and versatile spoons, each piece is designed to deliver ultimate comfort and utility. You can buy as a set or single pcs, Our clients usually do 24pcs or 16pcs in a gift box pack, or 6pcs per hang bag pack.
5. Ergonomic Plastic Handles: The ergonomic design of the plastic handles ensures a comfortable grip, making every bite a delightful experience. The wooden print on the handles adds an organic warmth to the touch, creating a harmonious blend of textures. If you need other designs, you can also tell me your idea.
6. Ideal for Every Occasion: Whether it's an intimate family dinner or a grand social gathering, this flatware set suits every occasion. Its versatile design effortlessly complements various table settings, from casual to formal, adding a touch of sophistication to your dining presentation.
Specifications
Item No.

SP107

Material

Sta

inless Steel 410

Length

Knife:203mm+ Fork: 195mm+ Spoon:193+Tea Spoon:150mm

Weight

Knife:30g+Fork: 25g+Spoon:31+Tea Spoon:19g

Thickness

Knife:2.6mm+Fork: 2.2mm+Spoon:2+Tea Spoon:2mm

Polish

Matte Polish/Mirror Polish/Tumble Polish

Color

Silver, Golden, Rose Golden, Black, Champagne, Rainbow

Delivery

25-45Days

Payment

T/T, L/C, D/P, etc

Packing style

24PCS/Color Box Pack or Custom
Printing wooden design plastic handle golden plating stainless steel flatware set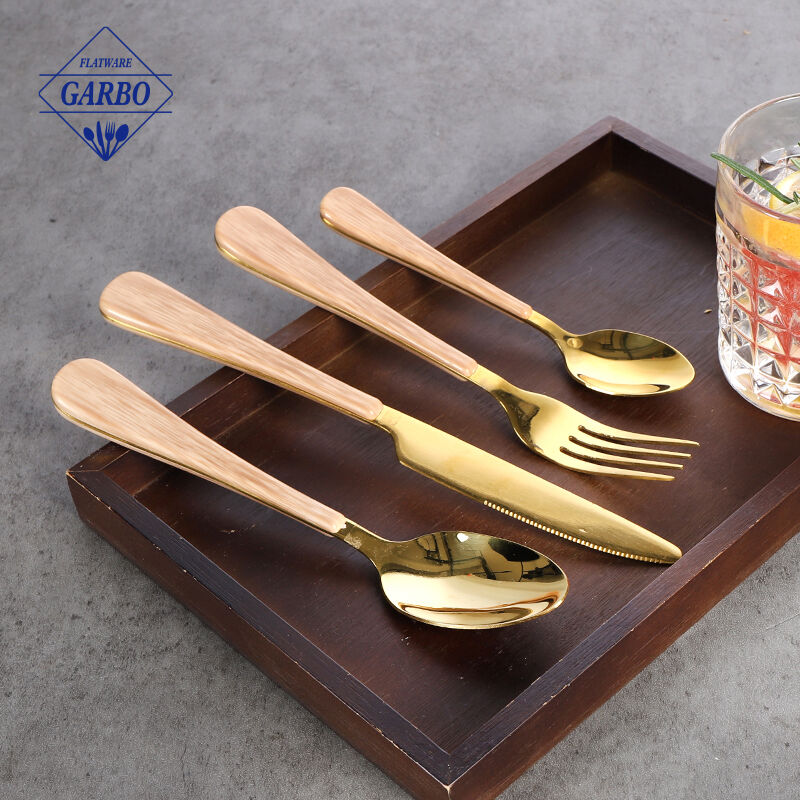 More Size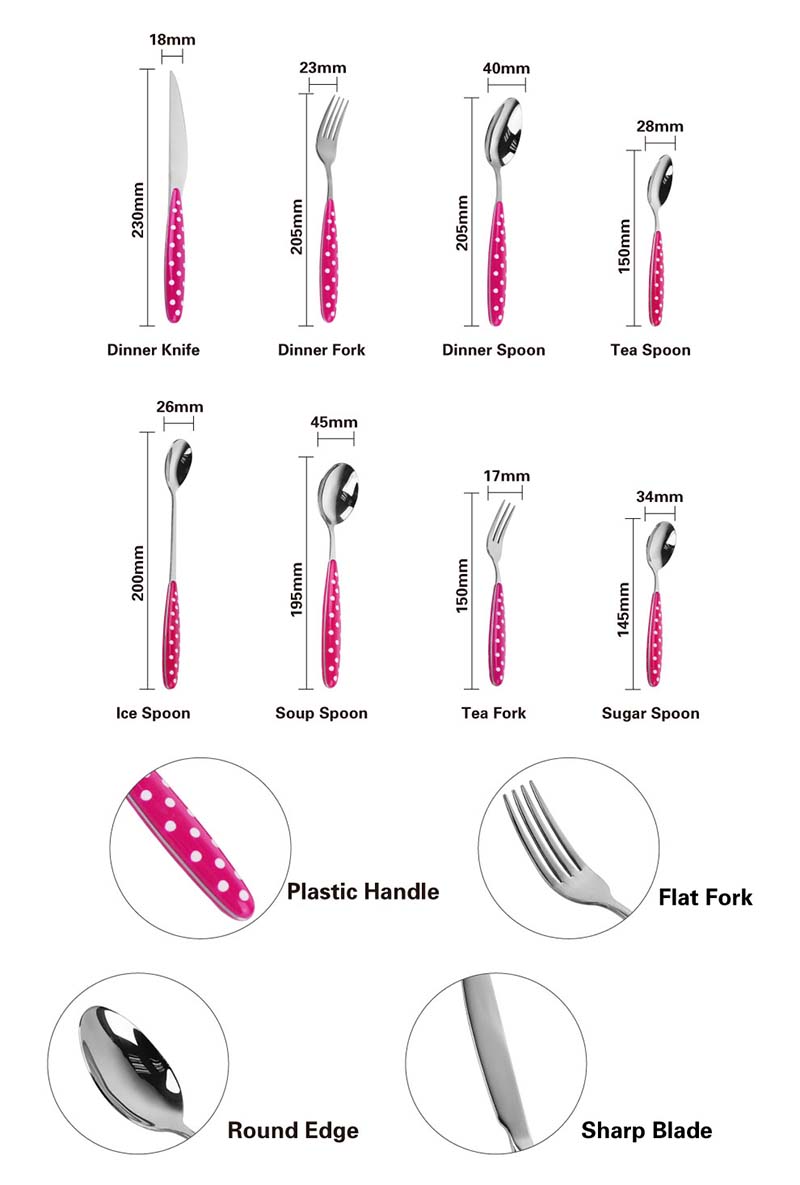 Hot Selling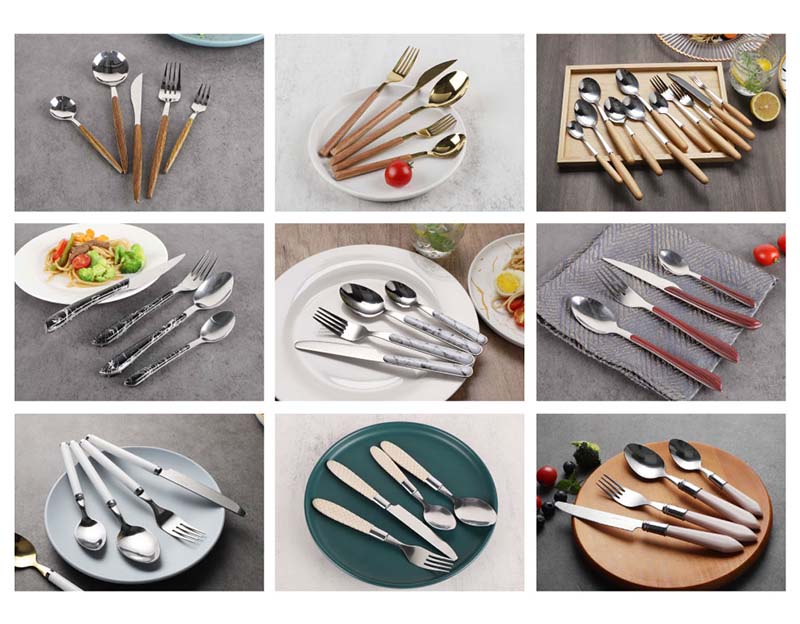 OEM&ODM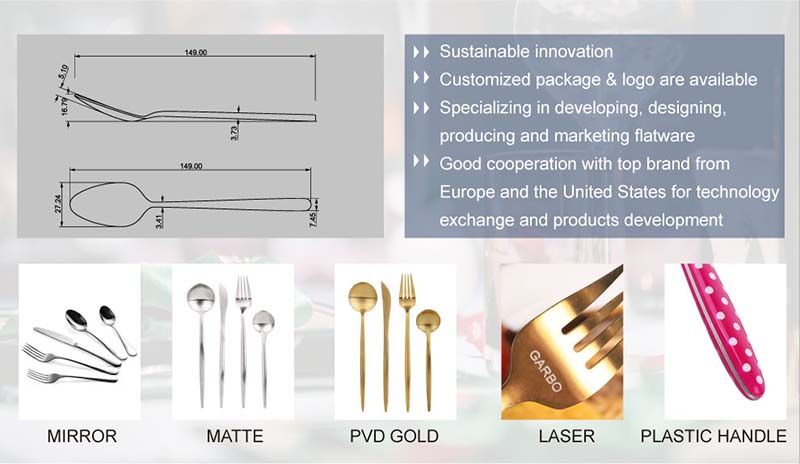 Production Processing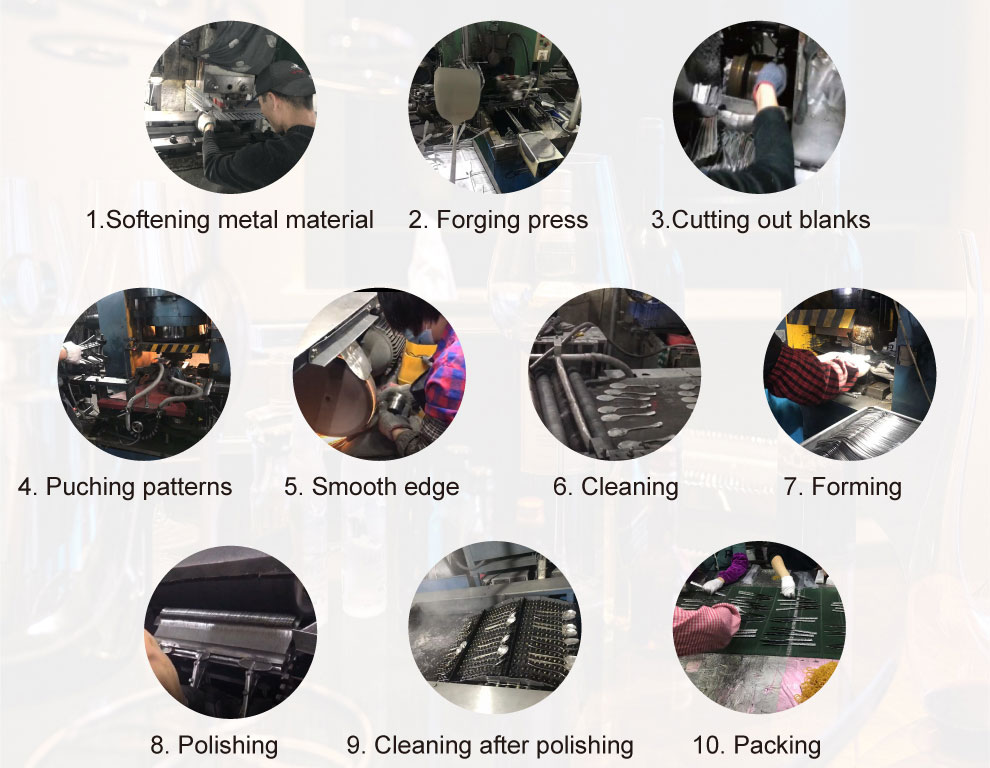 Different Package